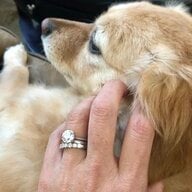 Joined

Mar 13, 2004
Messages

4,740
I need your help ladies and gents. My husband and I just suck at picking colors, or any home decor period. We recently sold our townhome and we're moving into a house which is much bigger, and it's in the renovation stages, we're moving in this weekend. But, I'd like to get some advice on paint color etc, and furniture....I hope there's an interior designer among all you PSers!
1) We picked a chocolate finish walnut floor for the downstairs, and a mocha (fairly dark) carpet for the upstairs because those colors are "rich". However, they clash with the existing
light butter
walls! I want to repaint. Please give me a few colors that would match so I have some options for different rooms?
2) The Kitchen cabinets have an antique finish (see sample picture below). It's not our actual kitchen but similar. What type of dinette set and hutch would go with a kitchen like that? My taste is a little more contemporary (think Crate and Barrel). My husband wants to go the shabby chic route to match the cabinets, but I don't...we need a compromise somewhere. Hope you guys can help.. Show me some pix if you have any ideas to share!