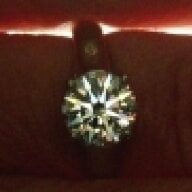 Joined

Jan 13, 2006
Messages

24,431
Thought I''d share a few things I make during the holidays, and maybe some will share back.

Cocoa Meltaway Cookies
1/2 c. powdered sugar
1 c. butter, softened
1 c. flour
1/2 c. cornstarch-Exactly
1/4 c. cocoa
1/2 c. ground pecans-Exactly
1/2 tsp. vanilla extract
Cream butter and sugar until fluffy. Add the rest of ingredients except pecans and vanilla. Blend at low speed until all is moistened. Add pecans and van., mix well.
(May need to chill for 1/2 hour or so for easier handling)
Shape into 1 in. balls, place 2 in. apart on ungreased cookie sheet.
Bake at 325 for 8-10 min. Cool 1 min. then transfer to wire rack.
Frosting
2 c. powdered sugar
1/4 c. butter, softened
2-3 tbsp. milk
1/2 tsp. vanilla
red and green food coloring (2 drops is about right, I divide the icing in two)
In small bowl, combine all until smooth. Frost completely cooled cookies, and allow frosting to set before storing.
These things just melt in your mouth.