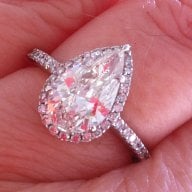 Joined

May 23, 2010
Messages

6,731
I just discovered this and I wanted to share.
There is a company that brings high end movies to
your local theater:
http://www.fathomevents.com
Just a
partial listing:
Opera: The Metropolitan Opera Madama Butterfly
Classic movies: Breakfast at Tiffany's, Maltese Falcon,
Ballet : The Bolshoi
Fun Movie: Ferris Bueller!
Films about Art: Davinci, Goya
Scary stuff: The Shining
To find a theater for a particular event, you click on buy tickets and it will tell you which theaters are showing your event (you don't have to buy right away). I'm excited because even in my podunk town, they have shows. So, they must have stuff in your neck of the woods too!

What fun to see Breakfast at Tiffany's and other classics on the BIG screen!
The website is pretty awful, and you may be better off looking at their mobile site via your phone. It's hard to get a list of the whole year at once on their site. It's all divided, kind of stupidly. I'm pretty sure you can just buy tickets at the theater, but will post if I find out differently.
Thought this was entirely too cool, so thought I'd mention it. I know a lot of PSers are into high brow stuff (or at least Ferris Bueller

) and might appreciate knowing about this option.