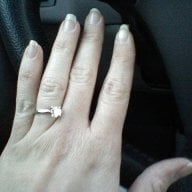 Joined

Jan 29, 2007
Messages

30
I have always loved jewelry. As a little girl, I would admire every piece my relatives wore. Anyway, I stumbled on this site a while ago and have basically been addicted to it. Thank you for the great pictures and wealth of information!

My fiance and I have been together for over 6 years now. We became engaged in October of 2005. Prior to the official engagement, we spent many years researching engagement rings before finally going ahead with the purchase.

As I mentioned earlier, my love of jewelry started at an early age. It didn''t take long before I set my sights on an engagement ring from Tiffany''s. My fiance was going to do just that until we found Cartier''s 1895 solitaire. Each ring is handmade in France for the individual stone. We fell in love with it''s fluid lines and the presentation of the stone. We wanted to be sure that we were making the best decision, so we visited many jewelry stores in Pennsylvania and New York and found only one other setting that we liked. It was a solitaire setting from Diana Classic, but we found it to be too thick and therefore, wanted to make it more like the 1895. It was at that time that we realized that we were simply looking for the 1895 setting in these other stores.

I will post pics as soon as I can figure out how to make them smaller.