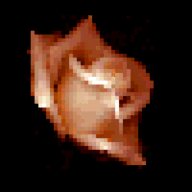 Joined

Oct 29, 2006
Messages

476
Well... in a manner of speaking anyways....
I don''t think I ever posted about it, but it came up again in a conversation and I needed to let someone know, and I can''t talk to my friends about these things, they get all weird about it...
A couple of weeks ago or so, my guy had told me that the only thing holding him back from asking me "THE question" is me not knowing what I want to do with my life.
I have a job, but I wouldn''t call it a career, and I''m back in school, taking it slow, doing one class at a time, but I have no idea what I''m going to school for (thus the one class at a time, I''m only taking classes that I''ll need to take no matter what I major in), and I''m having such a hard time figuring it out!! He doesn''t want us to get engaged and then have me be even more unfocused on figuring out what I want to do with my life (aside from being with him that is

), because he knows I already look at wedding stuff now and it really annoys him because of how much it distracts me when I should be working on homework or looking up different job fields (hmmm... I should probably be doing at least one of those right now!), and we both know I''d be just awful about it if we were actually engaged and planning a wedding!!!! So I really need to step it up a notch and figure out what I''d like to do after school and then get the necessary degree/s or training or whatever for it.
He''s not saying he''s going to wait until I''m FINISHED with school or whatever I need to do to obtain the career that I want, just that he wants to wait until I have at least established what it is that I want and have taken steps in getting there (I.E. picking a major for school and signing up for the appropriate classes, etc. etc.).
I could stand to wait a few years or however long it''ll take me to finish schooling if I needed to(though of course I don''t want to!), but he''ll be 28 this year and I think he''s got a bit of the engagement itch himself, a lot of his friends,(and even family it seems) have been getting engaged, married, and starting to have kids lately, and most of them are a 2 or 3 years younger than him. It''s possible thats not at all having anything to do with his little fever, but I do know that he''s got it!
After he told me what the hold up was, we talked about it and I mentioned that while I would love to have that right now, there are some other things we need to work on in our relationship before we take that step (nothing drastic, just little things that need some tweaking to make life a little happier), he fully agreed and said that we should just take some time to work on making our relationship even more solid, and that he guesses he "was just feeling impatient about it."
Yes thats right, he''s feeling impatient!!!!! I about strangled him!

I know that we''re doing the right thing by waiting until I know what I want to do about school and a career and everything, and while I felt/feel bad that it''s really me thats holding things up, it was really nice to know that he''s feeling the same way (at least more or less

) about wanting to get engaged and married.
There''s only one job that I''ve really looked into so far because it seemed like something I would really be good at and would like, and it pays pretty well if you can find the right company.... but the more I thought about it, the less appealing it sounded to me for various reasons. So now I''m back at square one.
Not a clue with what I want to do with myself, and no engagement in sight because of it

Sorry for the long post ladies, I just needed to tell SOMEONE all of that! And like I said, my friends get all weird, I don''t feel comfortable telling my family members about the actual conversations we have about it, just the joking ones
Because when they find out I''m engaged I want them to be happy and just as excited as I am, instead of "well you''ve been talking about it for months, DUH". SO if anyone actually got through all of that, sorry for the torture that is my rambling