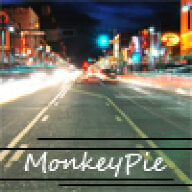 Joined

Apr 23, 2008
Messages

6,059
Meet puppy! No name yet. DH keeps trying to call him Dougie but I just can't get on board with that one. So we are waiting for him to name himself.
DH found him on the side of the road in the middle of nowhere, with three other puppies and his mother dead, clearly hit by a car and still warm. Another couple pulled over to see them and took three of the puppies, but DH brought one home. We are still deciding if we will keep him or not, but he is SO sweet. Very mellow and quiet, except when the kitten Jem pounces on him. We just brought him home today and Jem already loves him. She rubs on him and climbs all over him all the time, it's so cute.
Speaking of Jem...DH also found her on the side of the road, in a box, abandoned. He brought her home and we intended to rehome her, but she stole our hearts so we kept her. She's probably around 3 months old or so now, she was about 4 weeks when he found her.