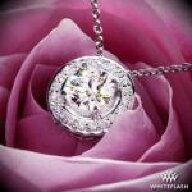 Joined

May 5, 2009
Messages

36
Hello! I have decided I would like to upgrade my diamond and would appreciate any guidance that the experts here may have.
I purchased my diamond from a jeweler in the South called Diamonds Direct. They have a great upgrade policy, so it is probably best (so that I don't lose money) to work with them again on this stone. My only concern is will I be able to find what I am looking for? If I didn't have this upgrade policy or if I didn't mind losing several thousand dollars, I would probably work with a vendor like
WF
or
GOG
and focus on buying one of their super ideal stones. It seems easier for me as the customer since they have searchable online databases and cater to customers who are looking for especially well cut stones.
Why I want to upgrade:
My stone is a GIA XXX, but I just don't "love" it. I feel like it is has less sparkle than I would like and it nags at me. I am also considering upgrading to a custom hand forged setting, but it wouldn't make sense to do that until I have the stone that I want to keep for a long time.
My question is twofold, 1) is it crazy to upgrade in cut only? I think I would be fine sticking with the same carat, color, and clarity if I had a better cut stone. I have even considered if I should go
down
in size just a bit, like a 1.9 ct if I find something that fits what I am looking for. I think going up in size would be nice too, but since I am considering a halo for my new setting, I don't think that is as important and I know it could cause the price to raise significantly.
2) Any advice on how to best narrow it down if I am working with a vendor that doesn't sell branded stones? I'm hoping the salesperson will be well educated on cut, but I'm a bit worried that they will think I'm crazy if I'm trying to upgrade a GIA XXX to a "better cut" diamond. It would be a lot easier if I could just narrow it down to
WF
ACA
or something like that, but I am not purchasing from
WF
.
Information about my current diamond in case it is helpful:
Measurements: 8.26 - 8.29 x 4.94 mm
Carat Weight: 2.02 carat
Color Grade: J
Clarity Grade: SI1
Cut Grade : Excellent
Depth: 59.7 %
Table: 59 %
Crown Angle: 32.0°
Crown Height: 12.5%
Pavilion Angle: 41.6°
Pavilion Depth: 44.5%
Star Length: 50%
Lower Half: 80%
Girdle: Thin to Medium, Faceted, 3.0%
Culet: None
Polish: Excellent
Symmetry: Excellent
Fluorescence: None
FYI: This diamond scores a 3.8 on the HCA