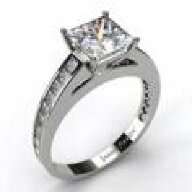 Joined

Jun 14, 2011
Messages

6
Hello all!
This will be my very first post on PriceScope! I have been doing some research on my own before learning of PS - but I am thrilled to have found this site and I have already been lurking and checking out the info.
Here is my info and questions (and please forgive me if these are silly ones - I am still learning):
My boyfriend and I are looking into purchasing a princess cut, 1.25-1.5 carat, F-G color, VVS1 - S12 depending on eye cleanliness and price. All of that aside, I desparately want to make sure the cut is Ideal or Excellent because I would love to have a super sparkler.
Question 1:
I was just informed by someone at
White Flash
that GIA does not grade cuts. I wanted to know if there is any way to determine/find out the cut of the diamond w/o having it inspected.
Question 2:
It seems that AGS diamonds are more expensive as well, is that because of the additional grading? I really care about the cut, but want to save as much money as possible without compromising too much. If it comes down to it, I am afraid I have to narrow down to AGS graded diamonds because I can rest assured that my cut is what I want.
Question 3:
Since clarity seems to be the most reasonable feature to sacrifice on, I thought to ask if inclusions tend to worsen and damage the diamond over time.
Lastly, I wanted to share my 4 C's "scale of importance" with you guys to see how you felt about what I am focusing on. Comments and suggestions welcome!
Starting from most important:
1) Cut - ideal to excellent
2) Color - I have a feeling some won't agree on color over carat, but since I haven't seen any diamonds in person, I am hoping some side by side comparisons could help me with this.
3) Carat weight
4) Clarity - no visible inclusions in plain view
Thanks ahead of time for your help!
I hope I can get some good insight on this.