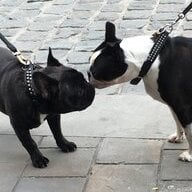 Joined

May 15, 2014
Messages

1,262
YAY!!!! So happy for you. I emailed David and told him you might be contacting him. I am so excited, that is so perfect for you. So tell me do you have any ideas on what setting and who's making it? We could be twinsies..... I don't know why I am so excited but I AM!!! Tell me more about your AVC... photos, please?
I actually sent an email on Sunday knowing they were closed and got an error message. So I called on Tuesday when they were open again and spoke to a woman named Marie who helped me out, told me they still had the M's and also what else they had, which included some loose stones and a few pair of AVC's that are set into earrings already. I snapped the M side stones right up.
I bought my AVC pre-loved a few years ago and it's been in it's original thin solitaire setting since. It's smallish, 1.1 ct M color so I knew I wanted to reset it and thought I'd look for side stones to make it a bit more substantial. I just never found sides I wanted and couldn't decide if OEC's would work. At one point I contacted Distinctive Gem about them, told him what size I was looking for, but I never heard back. So I just kept checking pre-loved. I don't know why I didn't think to contact
GOG
about them, but I didn't.
I really don't know how I will set them. I like low profile settings, so I could bezel them. I will know more when I see them with my center stone. I have always used DK to make my rings so I expect that I will do the same, once I figure out what to do. Until then, I'll follow your story and see what you decide. I'm looking forward to it.
Here's a photo of mine.