Joined

Dec 10, 2016
Messages

23
Hi everyone,
My partner and I have been together for almost 5 years and it's time to get married and start a family!


We have been lurkers on this page for a few months and read up on diamonds but are still far from confident in getting a bang for our buck. We are from Melbourne and do prefer to purchase from a retailer/wholesaler here or at least within Australia so we can physically see the diamond and also so there is somewhere we can go back to if there are issues. Having looked at
Blue Nile
and
James Allen
, we are worried that the images they have are in good lighting therefore we will miss the imperfections. Also have to factor in the 10% tax on top that we have to pay once it reaches Australia. We are open to suggestions from reputable overseas suppliers if that's what it comes down to.
Looked in retail stores here and can honestly say we have only been impressed by Anton's and Mazzuchelli's. Michael Hill prices were too high for the quality. Angus & Coote told us that they aren't the place to go if we are looking for GIA. Also called around to enquire at places like Charles Rose, Kush Diamonds and Jogia. Have yet to set any appointments up though.
This is where we would like the advice from you guys.
We looked at J diamonds to get an idea of the color at Michael Hill and it was definitely an obvious yellow so would prefer to go no lower than an I. There is this ring we saw at Anton's but the clarity grade is I1 and above our budget, however it is eyeclean. The salesperson allowed us to use the 10x loupe to view the imperfection and there is definitely a white line from the centre outwards as per the GIA report. I have attached images (please excuse the shop lighting).
The band is 18ct white gold, looks bronze in the picture though. HCA score is 1.2
link to GIA report:
http://www.gia.edu/report-check?reportno=7233192238
Carat weight: 1
Color: I
Clarity: I1
Cut: Excellent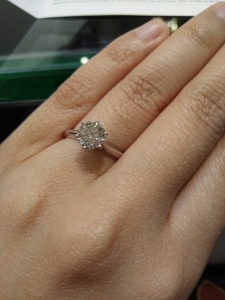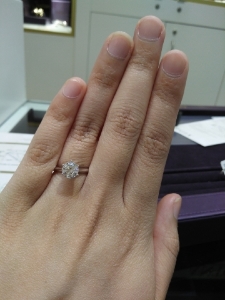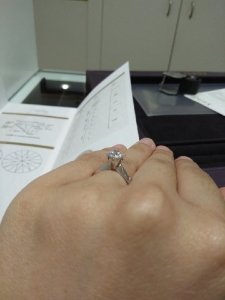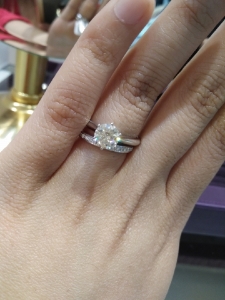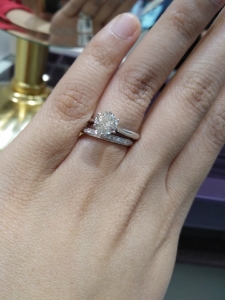 What are your thoughts? The retail price tag said $11950 and it came down to $8365 with 30% off. Do diamonds go on sale on boxing day?
Our budget is
AUD$7000
including 18ct white gold knife edged solitaire setting (possibly platinum prongs).
Report must be GIA. Round brilliant.
We would like a diamond that meets the below criteria.
Carat weight: approx 1ct
Color: I or higher
Clarity grade: SI2 eye clean
Cut: Excellent
Please help us find our perfect diamond! Is our budget sufficient for what we are after?
Thanks in advance,
Melbournelove