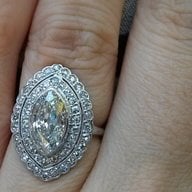 Joined

Jun 13, 2005
Messages

1,046
Hi all,
I am looking for a 2-3 ctw diamond tennis bracelet (18kt white gold or platinum) and have investigated several PS-recommended vendors. So far, Signed Pieces has the best price for what I''m seeking. They state the stones would be "ideal or premium" cut.
However, I have small wrists and normally get bracelets sized down (to ~6 inches). Ordering in this smaller size right off the bat would save me ~$500. However, Signed Pieces has let me know that a bracelet in this size could NOT be returned for a refund, or even store credit (ie: would be difficult to resell).
So, what should I do? I know they have a good reputation here, but I''ve never ordered from them before and am nervous to do so knowing I wouldn''t have any recourse in the unlikely event I find an issue with the piece once I get it.
Another option is just to order the bracelet in the standard size (so it would be refundable), and then assuming I love it when I get it, just have it sized down by a local jeweler. However, in that case I would pay for an extra 1.25 inches of diamonds and metal that I don''t really need. (I could order the bracelet for 6" and get it in platinum for the same price.)
Ah, the dilemma! I welcome any suggestions or advice.
Thanks,
Anne
PS - Signed Pieces (Pawel) has been very helpful answering my questions by email. I was also corresponding with people at Wink Jones / Winfields (Melissa/Wink) for awhile, and they were helpful also.