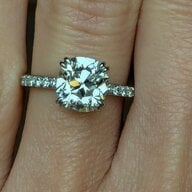 Joined

Jan 21, 2006
Messages

10,589
Hi everyone,
I talked to one of my BM''s a couple of days ago and she let me know that she is trying to get pregnant! Horray, for her!!!
However, I am unsure of what to do with the bridesmaids gowns. All of my bridesmaids live in a different city and are really busy, so I''d like to keep the same dress that we agreed on and that they tried on. I haven''t ordered them yet, but I really need to do so within the next two or three weeks to have enough time to get them out to everyone for alterations.
Attached is a picture of the dress (in gold though). It''s got a small amount of give in the stomach and it''s A-line, so it has more give in the lower part of the tummy. My BM who is trying to get pregnant is 25 years old and this will be her first pregnancy. The wedding is Aug. 25.
My instinct is to go two sizes up when ordering and then she can take it in....but I''m unsure. What do you think?? The lady at the wedding shop thought either one size or two sizes up.