I was referred here by a friend who used this forum when he bought his engagement ring. I've read up on a bunch on this forum and have come across a diamond that might be right for me from a local seller. It's currently on hold, but I only have until Monday to decide.
I asked the seller for ideal cut diamonds - something that would qualify for A Cut Above status (I realize
ACA
is a
WF
brand). He found this diamond and was able to get me
Ideal Scope
and ASET images. Please let me know what you think. Would this diamond make the cut for A Cut Above? It has a GIA certificate and is rated triple excellent.

Holloway Cut Advisor: 1.3
Depth%: 61.6
Table%:55
Crown Angle: 34.5
Pavilion Angle: 40.8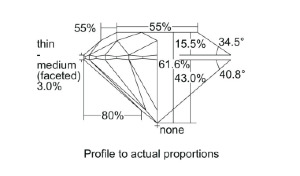 The dimensions are within
ACA
specs, but I notice the splits in the hearts and the yaw in the Vs. What do I make of that?
Please let me know what else you may need. I don't want to post too much info as I'm afraid someone might snatch it.