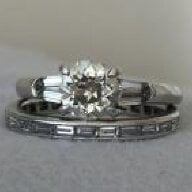 Joined

Mar 26, 2015
Messages

240
My brother just announced that he is ready to propose to his girlfriend, and I need some help to help him out!

He wants it to be a surprise, but I've strongly encouraged him to propose without a ring (or with a temp), or at the very least for him to do some sleuthing into what she wants if he really wants to do it without her..

She currently wears only delicate, modern, rose or yellow gold jewelry. I sent him a bunch of ideas, ranging from 6 prong solitaire to 5 stone to moi et toi to 40s vintage, and he was most enthusiastic about a plain solitaire. I'm guessing from her style that she might like something a little more unusual, but I'm having trouble figuring out what that might be.

Her mom gave him several pieces of her family's jewelry to potentially use stones from, but he has no idea on carat weight/color/clarity of the stones. All are rounds (I think RBs though some may be OEC/trannys). Over FaceTime they looked in the .5-1ct range. I already talked with him about getting an appraiser to take a look and see if any of them are decent color/clarity, and then considering a recut if so.

Total budget $3-$5k, preferably on the lower end. Obviously this is easiest if one of the stones he has is workable (I don't think he would spend the full amount on just a setting). If the stones are crap, and he can't figure out what cut she wants, I suggested sticking with a round or cushion.

What am I forgetting to tell him? And any suggestions for:

1. Ideas for settings or stones for a mid 30s tech hipster seattleite?
2. Good appraiser/jeweler in Seattle who could give him decent info on the stones he has?

Thanks!