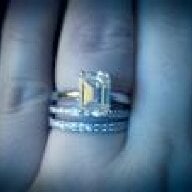 Joined

Nov 12, 2004
Messages

6,183
Hi ladies,

Well, the time has come for me to really decide what kind of color scheme I am going with for my September 28th wedding, and I am having the hardest time... We have to pick out the bm dresses and get started with the florist, and I still have not come to a decision!!! So, I figured I would ask my trusty PS pals to help....you always come through!!!



For the bm''s, I think I want to go with chocolate brown -colored dresses, which is my favorite color in the fall....but for flowers and the rest of the color scheme, I am really stuck between 2....Do you think I should go with creams, pink (a very very light pink), and ivories, OR peaches (very light), ivories, creams, and chocolate cosmos? Let me just say that I really hate orange and I really hate pinky pink, and I am afraid that the florist will go too far with either of those color schemes...I really have to emphasize that I just want a HINT of color, whether it be pink or peach....I know I sound crazy psycho over it, but orange has to be my LEAST fave color ever, and I am really not a dark pink kind of girl....



I am going to post some pics - let me know what you think!!!