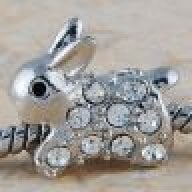 Joined

Jan 15, 2010
Messages

848
Thanks again to PS for sponsoring the holiday giveaway! I've decided to use the prize money to finally get a long-awaited pair of diamonds studs. But I've never selected diamonds on my own before and I'm quite an indecisive person to begin with, so I'm feeling a bit stuck trying buy these studs on my own. Please help! Budget: $2000 or so for the stones, but flexible. Don't want to spend much on setting.
Diamond stats: Would like 1.0ctw or bigger, ideally. Considering going down to H/I color, SI1/SI2.
I'm strongly considering
WhiteFlash
, with a simple 4 prong setting so I can be open to upgrading down the line. Does the
WF
4-prong setting sit well on the ear? I also love the martini look, but read here that they can dig into one's piercings.

Or, given my smaller budget, would I be better off with
IDJ
,
GoG
, or another vendor? It seems there is a
WF
premium (.80-.85ctw instead of a full carat at other vendors), and I wouldn't mind getting a bit more size.
Do you think I could potentially go lower in color, when my wedding set is E/F? I'm afraid J/K color studs would be noticeably different enough to bother me.
Thanks for any advice!
Btw, here is what approx 1ctw (CZ, lol) studs look like on my ears: