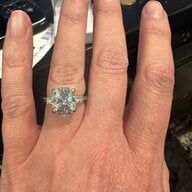 Joined

Nov 12, 2011
Messages

973
Sooooo I LOVE the Tiffany & Co Victoria earrings size small but cannot fathom spending $8200 Australian dollars on them. Ive trawled through second hand online boutiques and ebay etc..... hoping to find a second hand pair.
So now Im going to have them replicated. Id love help to perfect this, along with suggestions of possible jewellers to make them and source stones.
The small ones have 0.64 tcw which makes each marquise 0.8 - now i realise dimensions can change but I cannot take my ruler out in the Tiffany store hehe not would I get an accurate measurement with such small stones.
I know many of you have such an eye for these details so help me execute these perfectly! I know it sounds silly but Im wanting people to see them in my ears and think straight away "Wow they're Tiffany".
Platinum.
I would like to wear these ALL THE TIME, swimming, showering, playing with kids, exercising etc....... so need further input about this too...
Thank you so much! PS i dont have a budget yet, but given the tiny sizes of the stones Im hoping to do this for between the $1000 and $2000 mark. Is this realistic?