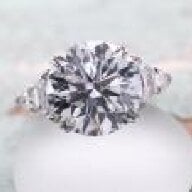 Joined

Sep 18, 2015
Messages

165
Hi all!

I am beginning my diamond search. I know I want an Old European Cut diamond but I don't know enough about them to pick a good one. I know so many of you are experts, would anyone be willing to chime in with some stone suggestions? Any help at all would be so appreciated.

Here are the relevant details:

Budget for stone - about $25K
Stone size - at least 2 carats, a little larger would be nice
Color - I'm flexible here but I'm not certain I would want to go below I or perhaps J.
Clarity - As long as eye clean and structurally sound (obviously), high clarity is not important
Antique vs. newly cut - I don't have a serious preference here, I just want a well-cut stone with excellent light return.

The only other point to note is that I don't tend to like stones with a large very noticeable culet (I think that's the word for what I'm talking about - the circle you can sometimes see in the middle of the stone.)

In terms of my priorities I would rank them: 1) cut 2) carat weight (really would like to be closer to 2.5c), 3) color, 4) clarity.

I'd love to know your thoughts on the best stone for my money! Thanks so much!