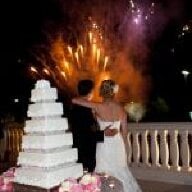 Joined

Jan 8, 2009
Messages

690
Ok I need some input....
My FF and I were working on the setting design. Because I have a cushion, and its on the larger side, and I want it set high up (not flush with the rest of the ring), I''m told I need to have a substantial setting. Either a basket or a "doughnut" underneath (like on the tiffany novo). I put together a Harry Winston setting, just without the halo. I have pave diamonds in the band, on the "doughnut" and on the prongs. Its sooo pretty. However, now I am finding out that with this type of setting, the wedding band would no fit flush with the e-ring. It would either be spaced, or I would need to get one that like indents, and locks to the e-ring. Im not nuts about that because then I wouldnt be able to wear my wedding band solo down the road if I wanted to.
What are your thoughts? Anyone else have a similar situation? What have you decided to do?