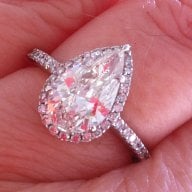 Joined

May 23, 2010
Messages

6,731
So, I'm thinking of moving, I have used this place up! I have seen it all, done it all, I'm bored with it. I moved here because it was peaceful, not I think it's just too dang quiet.
The fall decorating thread made me rampantly jealous of places with seasons, we don't have that here. I am flexible, so can live pretty much anywhere.
Here's what I'm looking for;
I think I need seasons, but I don't want winters that are way below zero. That's just nuts!
I need a city of some kind. I haven't had that for a long time, and I miss it. I need stores, malls, etc. I have all that, but it's about an hour away and the pickings are slim.
I want a yard of my own, a park down the street is good too, I like to walk my dogs.
I need to feel safe wearing my jewelry. I've been to big cities and I'm worried about my purse, much less my jewelry.
I hate traffic. I moved out of my last city because the traffic was unbearable; it took me 45 minutes to go 6 miles, off-peak! It was so crowded that even though I was on a six lane highway, it was still stop and go. And no, there was no way to go around.
So, any suggestions from PSer's of where I can move? Does your city/town/hamlet fit the bill?