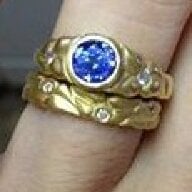 Joined

Jan 23, 2008
Messages

3,545
So,
I'm looking for an everyday pair of sapphire earrings. I'd prefer bezel set, but they dont have to be. My budget is non-existant, so I'm intrested in spend as little as possible. I have sterling silver earrings, but they have been turning my earlobes the same tarnish color as they get sometimes. I dont like the super dark dark blue, and I'd prefer white gold. I really like
these
but they are way out of my non-existant budget.
I'm treating myself for paying the wedding down so much, but I can't spend to much, beacause there are more things I need to pay for!
If its cheaper to buy the stones and then find semi-mounts, I'm willing to go that route as well. I'd like them to be pretty good sized as well (.25 each). I dont care if they are treated or not, as long as it doesnt affect the appearence of the stones.
Can you guys help me out?
I'll also consider blue topaz, because its also very beautiful. I'm looking more for studs, but am open to small hoops/dangle as well! These are for everyday wear!
Thanks so much!