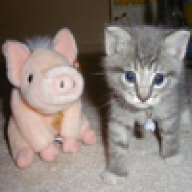 Joined

Nov 28, 2006
Messages

220
My husband wasn''t too keen on the idea of a diamond ring until I assured him we wouldn''t be replacing my colored stone engagement ring, but rather adding an anniversary ring, and we could build it together so he wouldn''t have the pressure of finding the perfect ring on his own. He thought that was a great idea! But to get the ball rolling, I need to pick a setting.
I''m torn between a trellis setting and a basket setting with pave (8 3-pointers bead set, to be exact). I looooove the pave setting, and I like how it seems to be a lower setting than the trellis, but I don''t know about the maintenance. I''ve heard about diamonds falling out and how hard it can be to resize these settings. I''m a worrier and I don''t know if I can handle it. In addition, the spread of the main stones will cover most of my finger. I''m not sure whether I''ll be able to see the pave diamonds while wearing it.
I like the simple but different look of the trellis. It looks like it can take more abuse. It''s $600 less than the pave setting, which means more money for bigger/better main stones. We''re probably not going to have a huge budget and every $ going to the center diamond counts.
The other issue is that my mom has a 3-stone ring of rounds about the same size I''m looking at in a white gold basket setting. I want mine to look a little different than hers.
What''s your vote?