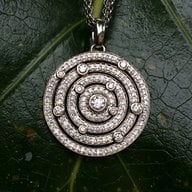 Joined

Dec 9, 2008
Messages

2,260
As I said in a previous post, I found my dream ring in the store and on impusle I guess my bf and I decided to have it re-shanked in rose gold as the jewler offered to do this for us for free. We figgured it would help bring out the pinky peach colour in the center stone.

I spent 2 weeks waiting for it to come back and stressing if we had made the right choice. like really really stressing.

On friday we went to pick it up. The Jewler handed me the box and As I opened it, my gut instinct was dissapointment. I don''t know why, I guess it just wasn''t the ring I fell in love with two weeks ago. I spent the rest of the day feeling upset that I didn''t love it the way I did when I saw it in white gold.

Now It is the only thing I can think and stress over. It looks beautiful in rose gold, more antiquie looking, it brings the center stone out in more goldy colours. The gold suits my skin and my bf likes it better like this. I just can''t stop missing the more peachy pink look the stone had in white gold, although it may just be the different lighting. In white gold everything was white except the center stone, which I really liked, now I can''t decide if the rose gold, being a stronger colour then the diamond steals it''s thunder alittle.....

I need to decide for monday if we need to take it back to be made back into white gold (I''d be so embaressed if we have to) which may cost us alot of money.

Has anyone else felt like this about their ring? I''m so indesisive, how do I make up my mind?