Hello,
I am looking to get an Art Deco Diamond engagement ring for my girlfriend. I am looking in the 1.5 - 2.5 carat range and am willing to spend up to $25k. We would like to get an antique ring, but I've recently started considering getting something made (in the style of ring 1 or 2 most likely). I'd appreciate any comments on my concerns with rings 3 and 4? I'd also love comments on getting a ring custom made and would appreciate links to rings I might like! I've been looking on most of the sites listed in the thread of online diamond sites. I think that's why I'm open to the idea of having something made
Thanks!
Ring 1: I came very close to buying her this ring, but it was gone when I reached out. We both liked the uniqueness of the emeralds and the ring isn't too wide. The listing is gone but I have this image still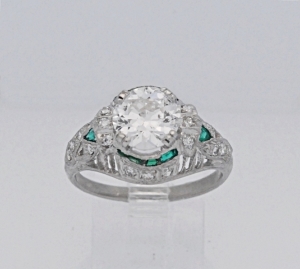 Ring 2: We both really like the style of this ring, but the band is huge and the stone is a bit small. I sent a message to the seller but haven't heard back.
https://www.rubylane.com/item/1552830-21207/Platinum-Diamond-Sapphire-Art-Deco-Engagement?search=1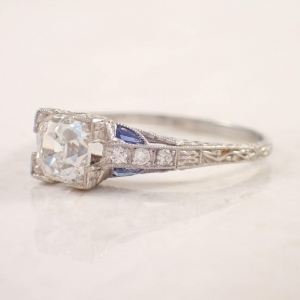 Ring 3: This ring is a possibility, but seems expensive for the size / quality of stone?
https://www.etsy.com/listing/187402593/antique-vintage-art-deco-1920s-gia?ga_order=date_desc&ga_search_type=vintage&ga_view_type=gallery&ga_search_query=&ref=sr_gallery_9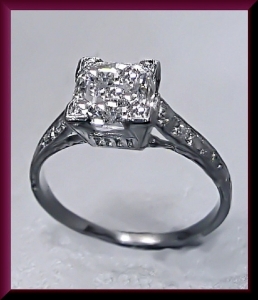 Ring 4: This ring is also a possibility, and we both like this style. It doesn't seem terribly unique as there are lots of these stepped rings out there. My big concern is that it is EGL certified and the girlde is Ex Thin.
http://www.newyorkestatejewelry.com/Art-Deco-2.56ct-Old-Mine-Diamond-Platinum-Engagement-Ring/Engagement-Rings/15872/3/item