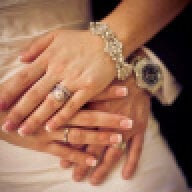 Joined

Sep 5, 2007
Messages

2,201
Okay so my stepbrother is getting married and his finance bought this cotton hemp dress.
http://www.simpledress.com/collection.php?id=3&page=orchid
No comment... on the the pics of her wearing the dress. Ahem.
Anyways, she wants a lime green bridesmaid dress. Her colors are lime green, orange and fuschia.
I think a
cotton
strapless dress would work best but her next caveat is that it be $100 and under. She may be able to stretch it a bit higher if the dress is THAT good, I'm hoping.
I found this pic online and I think this would be perfect but I have no idea what this dress is or if there's anything similar out there. The color looks perfect though.
And no David's Bridal, they don't seem to have that color and she said she's a DB snob and won't go in their store or purchase any of their items. Again, no comment. I tried Dessy, Aria and a few others, Nordstrom, ebay etc etc I'm stuck! My googling skills are dying! I found something on Target for 49 bucks but I'm wondering is this actually cute or am I just reaching? Sans belt of course.
http://www.target.com/Merona-Collection-Strapless-Party-Dress/dp/B001L54QNK/183-0397771-5070650?ie=UTF8&node=1264101011&frombrowse=1&pricerange=&index=target&field-browse=1264101011&rank=pmrank&rh=&page=3
Help? I'm posting the pic I found in case any of you have any ideas! Thanks!
ETA: If not cotton then non-shiny works.