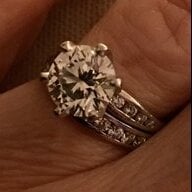 Joined

Apr 18, 2007
Messages

1,118
I chipped my 2.03 ering stone. I Hope someone writes back soon!!!
I desperately need the favored ranges for table, depth, crown, pavillion, lgf, upper one, don't know what its' called. I cannot use the search engine here to find the old posts with the proportions ranged,

Please, please someone post good proportions.
I had a warranty to replace my stone, but they brought in ones that I didn't like and had 3.3+ HCA. They asked me exactly what I want so they can search. I have to buy from them because it is a replacement + upgrade. I don't have much time because I bought a stone that looked great on paper GIA XXX, It is beautiful and clear, but it lacks fire and there is something missing, and I can't put my finger on it.34.5c X 41.2p angle 58 table, 60.8 depth?(GIA report 213519930
2.21ct RB I am soooo bummed that my dear wedding stone got ruined. I could live with this one, but I could do better if given the chance.
I know I want a 54-56 table. Not sure how deep to go. I usually like 60-60.8, but that's a little narrow of a search. I also am unsure of lgf, My other stones were 80% and 50% top.
Please help. I have to send off the email with my requests ASAP. I only have 27 days to return this stone. thanks!