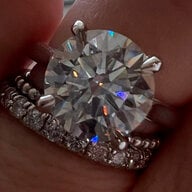 Joined

Dec 7, 2015
Messages

328
So, I upgraded my ring about a month ago.
The good news,
1) I Love my setting
2) I feel really good about the choice to do H/VS2
3) I Love that I went from a RB to a Cushion
4) I really like the modern cuts (sorry to most of you who seem to like antiques!)
The bad news,
AFTER committing, I found all of you and became obsessed about the fact that I got a "crushed ice" cushion. That said, based on the
GOG
video, I have a good one, but I don't think it's a stone I just love
I'm trying to love it and at times really get lost in all of the tiny sparkles and enjoy it, but I think I could be happier. And I paid way too much to not be thrilled.
I got a custom design, so I'm afraid that I'm going to take a bath if I get it altered (if possible) for a new stone. I'm also nervous that it won't look good if they start messing with it.
So... What would you do? How would you approach the jeweler? And, I think I found a stone that has similar specs except should be a better facet pattern... Thoughts?
http://www.bluenile.com/build-your-own-ring/diamonds?stockno=LD06507614