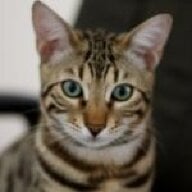 Joined

Jun 4, 2008
Messages

6,893
Apartment 1
Cost:
when I total up rent ($1532), plus pet rent ($50), and probably utilities (let's say $50) comes out to about $1632.
Security deposit:
$1000 ($500 regular, $500 pet)
Sq. ft. + floor:
700, 2nd floor
Amenities:
Vaulted ceilings, standard amenities (dishwasher, etc.), washer/dryer in unit. Probably newly renovated but they're not sure about this particular unit yet.
Location in community:
Good location towards the front off the courtyard
Parking:
Assigned covered parking
Gated:
Yes
Location:
About 20 min. from my grad program, close to the freeway to get to said grad program
Painting:
Accent wall only - they won't let me paint the whole thing, and it is yellow. An ugly yellow. I HATE yellow.
AC/heating:
AC yes, I think wall.
Flooring:
Carpet, hardwood laminate in bath and kitchen, maybe in dining (depends on how recently renovated)
Neighborhood:
Not sure yet - my friend is going to go drive by sometime soon. Apartment Ratings gives it mixed reviews (but that's about on par for every place I looked at on there). Looks like as long as you're not on the expressway side of the complex (which this apartment isn't) it should be quiet. The older reviews (from 2009-2010) are positive.
*I am NOT living in that yellow apt. If I went with this place I would end up painting the whole thing even though I'm not supposed to - however, I am risk averse (I went to law school after all) so breaking the rules makes me a bit uncomfortable.