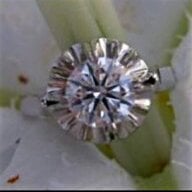 Joined

Nov 17, 2009
Messages

2,723
After taking a little break from PS I'm back and I'd like to kindly ask for the help of my fellow PSers on a new project, that I have in mind.
So, as some of you may already know, my ER is an E, VVS2, triple EX, GIA certified, .90ct RB diamond, set in a 18kt white gold, custom made setting (GIA report number: 5106676927). It is also a Hearts and Arrows diamond, which has been certified by an independent appraiser, to whom I took the diamond after purchasing it and before having it set, because there was a H&A laser inscription on the stone, which was noted in the GIA report, and I was curious to find out whether the diamond was truly a H&A. The measurements of this stone are: 6.19 - 6.24 X 3.84 .
I really love this diamond. It is exactly what I wanted and I chose it among many. I have worn it in the solitaire setting for approximately six years now and in general I have enjoyed it a lot.
Nevertheless, I have two problems with it. The first one is the fact that my half eternity band and my plain wedding band don't sit flush with my ER, due to the fact that there is a curve in the lower part of the basket. At the beginning I was fine with the gap between the rings but eventually it really started bothering me. The second one is that I wish for some more size and bling but I wouldn't ever consider upgrading the diamond. I love it too much and it has a lot of sentimental value both for me and DH. And even though I really love the halo settings that I see here on PS, I wouldn't want to go that way, because I already own two other rings in that style.
So I thought that it might be a good idea to reset my .90 diamond to a three stone setting.
I need to point out that I am considering using for this purpose a diamond that I already own. It is a .31ct diamond (GIA report number: 2166509266), which I bought some time ago, with the intention to have it set in a pendant but I finally didn't, because DH (who wasn't aware of those plans) bought me a beautiful pendant, as a gift. This is not in any way a perfect stone. It is an H, SI2, VG cut diamond and its measurements are 4.22 - 4.24 X 2.71. It scores 3.9 (very good) on HCA.
I have worn it on the clasp setting right next to my ER and I have checked it out in different lighting conditions, like outside, under the shadow of the trees in our garden on a sunny day, indoors and under the spotlights of our living room. I honestly can't see any significant difference in color and sparkle between the E and the smaller H diamond. Not a difference that would bother me that is. Maybe this has to do with the fact that the H diamond is much smaller than the E one. I'm not sure. But I'd really like to hear the opinions of the fellow PSers on this issue. Do you guys think that it would be a mistake to have the E, H&A stone set in a three stone setting with VG cut, H color side stones? Please share your sincere thoughts with me, because if I go ahead with this project, I wouldn't want to make any serious mistakes that I would regret afterwards.
Also, I am considering buying another stone which is also in H color and .30 ct weight but its measurements are: 4.31 - 4.33 X 2.66. So I'm wondering if there is any chance of seeing a size difference between those two side stones, considering the fact that the one that I already own is 4.22-4.24 and the one that I'm considering buying is 4.31-4.33. My guess is that once they are set on the sides of the main diamond I wouldn't be able to tell the difference but I can't be sure and obviously I wouldn't want to buy the diamond and realize afterwards that it's not a good match for the stone that I already own.
Apart of the above issues, I'd like to ask you guys for ideas on three stone settings, which will permit my bands to finally sit flush with my ER. Please share any photos or links that you might have in mind.
Thank you all so much for your time and excuse the very long post

ETA: Do you guys think that for a .90ct center diamond the .30ct side stones would be alright or would they look too small?