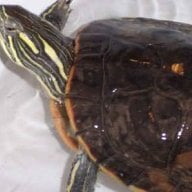 Joined

May 1, 2006
Messages

584
OK, so I despise shopping with a passion. But I know lots of you gals on here love to shop, so I was hoping to get a little help.
I was out shopping for a dress with my MOH (and only attendant) last month, and actually ended up randomly finding a dress for me at Bebe ~ a black and red silk kimono dress that was on sale for ~$60 and fits really great. I couldn''t pass it up. Pics below.
But I need help accessorizing the dress! Shoes?!?!? I wouldn''t to spend more than $100. I''m so clueless when it comes to these things ... it''s sort of pathetic

I also will need the bra cup stick-on things since the back is so low I don''t think a strapless would work ~ anyone have any recommendations? I''ve never worn these before. I''m a 32/34 C (a smallish C).
Jewelry? -- even more clueless here.
Finally, do you think I could wear this to my friends'' wedding? The wedding is a destination wedding near Destin, FL ~ 5:30pm ceremony on the beach with a dinner and dancing reception to follow at a B&B on the beach. The wedding is in early April, so I might need something a little warmer to wear over it when we''re outside ... a pashmina?
TIA ~ I''m trying to learn fashion, but it is sooooo hard for me! Can''t wait to see what you guys come up with!
Front of the dress (that''s not me ~ I just found a random pic of the dress):