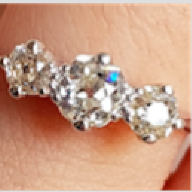 Joined

Oct 18, 2013
Messages

53
Hi all
To begin - I hope you are all well.
These days are testing all of us - and I hope for the good health of you and your loved ones
Since I am spending all of my time indoors now, I'm finding time to wear jewellery that I otherwise wouldn't!
One such ring is a beautiful ~1ct old mine cut diamond that my grandmother passed down to me.
The reason why I don't wear this as often, is because of a crack in the diamond.
She always told me that diamonds are very strong and that it has lasted millions of years to make its way to us. She said she wore it with careless abandon and that I should do the same
However, I'm too scared to wear it!! I wouldn't want to be the one to break this precious stone.
So - consulting my experts here: what should I do? Is this stone safe to wear? If not, is repolishing a diamond even possible?
Thank you for your help!!
I'm based in Australia - so any recommendations for jewellers to help with this ring would be appreciated