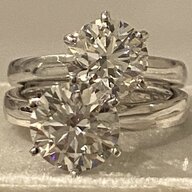 Joined

Nov 2, 2003
Messages

1,860
Hello PSers!
So HCA <2 is an acceptable score (and then go from there for assessment) - understood.
My question then becomes, wouldn't the particular rating for each category of the HCA matter/make a difference in the stone's performance?
For example, say a stone gets a score <2... yet for what I call the 3 performance categories (Light Return, Fire, Scintillation), doesn't it make a different what those individual scores are?... hence what actually COMPRISES the total acceptable score?... i.e., is it better to get Excellent for a particular category than Very Good? Does that make a difference?
As example, I have posted the HCA for my stone (as that's the only thing I have to go by as comparison when I see detailed HCA scores referenced for various potential stones in question on this Forum), of which you can see my diamond's HCA is 1.6 (which I was ecstatic about as I had been off this Forum for quite some time prior to getting this diamond and it didn't occur to me to run it through the HCA until after it was purchased, after I returned to participating here, so I definitely lucked out on my HCA!).
So my stone got Excellent for what I call the "performance" categories. It only received a Good for spread because it is a deeper cut stone (per PS standards... still made GIA 3X but that's a topic I will bring up in another thread lol!). Anyhow, it only received a Good due to its depth.
I don't know if it is safe to assume that had the depth been better, it would have scored higher for Spread and my total HCA score would've been even lower than 1.6?... I know each spec has an influence on score but given depth is included in providing a score the fact that my diamond's deep(er) depth played a factor in the score, had the depth been better it would've changed the score in a positive way??
So for my diamond, as example, is it a good thing that what I refer to as the performance categories all received Excellent... or does it not make a difference what the individual scores are as long as the HCA is <2? As comparison, take a stone which has a better (lesser) depth than mine... it would get higher than Good for Spread... and let's say that stone ALSO received an HCA of 1.6... that means it got lower in one/more of the performance categories than my diamond... so does that mean as far as PERFORMANCE (or potential performance) goes, my diamond would fair a little better overall???
I realize that Spread IS a "performance" factor in a diamond for many/most people (it wasn't for me but that's another story)... but putting a stone's visual size to its actual carat weight aside, where we are just looking at how the diamond performs (or potential performance) hence as to concerning ourselves with its Light Return, Fire, and Scintillation, does that make a difference in whether it gets Excellent, Very Good, Good, or Fair... as long as the HCA calculates as <2?
OR does it not matter how the score gets to be <2... if it does, great, and then you go by ASET as to making a performance determination???
Do we know if, IRL, a stone that received an Excellent for Fire, as example, performs better than a stone that received a Very Good, etc?
This Forum's "mission", as it appears to me, is to assist buyers in sourcing stones of the highest quality and performance, and in the process embraces the use of the HCA as the first step, as a rejection tool. Why then is there negativity toward it from some? Even Mr. Holloway, himself, says it is a rejection tool... he isn't claiming it is the be all, end all, but that it is a useful tool for which to begin the process of weeding out diamonds as the "hunt" narrows toward the best option for a particular buyer based on their goal(s). So why the criticism? There are "a million" stones out there, one has to have a place to start the process!
Moving on to more questions, I have attached my stones specs and the additional HCA info. On the image that shows the graph of possible cut grades, it appears in the "sweet spot" for both GIA3X as well as AGS0. We all know that due to my diamond's depth, my stone is no way an AGS0! So how can it plot as such?
Also, in the image for "Looks Like Size", it says it looks the usual size for its carat weight, but we know it doesn't as my 2.01 carat diamond has measurement of 8.01x8.06x5.06. I realize this is still the Beta version of this addition to the HCA. However, when you go to the description of what each Spread means (attached), it does state that it may be a bit smaller due to slightly thicker girdle and/or small table (both of which my stone has), so that is the more accurate assessment.
I have included my diamond's info as points of reference because, as I stated earlier, that is the only thing I have to use as comparison in learning how all this works as I see the potential diamonds submitted for review by buyers.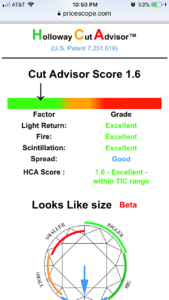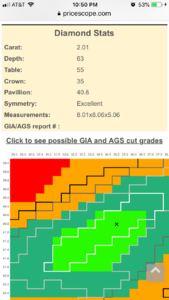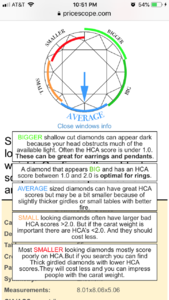 Thanks for reading and thanks, in advance, for your input. Much appreciated! ~ Headlight