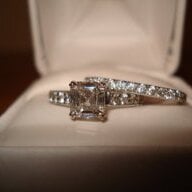 Joined

Sep 30, 2008
Messages

736
on your favorite cut? heehee

So I''m going ring shopping this weekend (!!!) and will most likely end up with my first love, the cushion cut. We meet about 2 years ago and it felt like a match made in heaven from the start! lol! The thing is, lately I''ve been very tempted to cheat with an Asscher cut. For the last few months I''ve been drooling over everyone''s Asschers here on PS

I doubt SO will let me get an asscher bc he knows how indecisive I can be...but it sure is fun to flirt with the idea!

Has anyone else been IN LOVE with a particular cut forever but ended up with something different?
If you''re not engaged yet, what cut will you most likely end up with (and do you have a close second fav)?