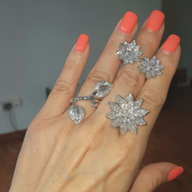 Joined

Oct 5, 2006
Messages

9,899
At the risk of sharing TMI, I''ve been suffering from err...you-know-what these past few weeks. It''s so damn itchy, though I don''t really have any other obvious symptoms. My Dr prescribed Gyno-Trosyd (100mg 3 pessaries in each dose) and I''ve gone through 2 courses already, but it doesn''t seem to have worked. The strange thing is this damn thing came all of a sudden. All I can think of is that I used the guest towel (though I thoroughly washed it in 40 degree C and soaked in Dettol after they''d used it). I really should have washed it in 90 degree C instead. It''s really stupid of me, because I normally separate the guest towels from ours and don''t touch anyone else''s towels, not even in the gym or in hotels.

Since the pessaries don''t work, my Dr gave me a single-dose Diflucan. I''ve looked it up the internet and saw alll kinds of horrible side effects, one of which is difficulty breathing/ swelling of the throat etc. I''ve had this adverse effect with Stilnox/Ambien before which I''ve now stopped taking.

So, I was wondering if you''ve taken Diflucan and have you suffered any adverse side effects? If you don''t recommend it, is there anything you''d recommend either as an oral medicine or another kind of pessary (which I''d prefer to oral medication).

Thank you.