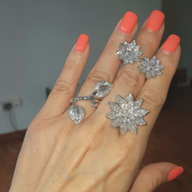 Joined

Oct 5, 2006
Messages

9,956
...realise months or even years later that you didn't actually want it after all? That what you want is actually something else?
Some of you PS'ers may know that I've been after a 5ct RB for about 4 years now and I literally almost pulled the trigger on one recently (except that I couldn't put together the funds fast enough - only to end up eventually spending most of those designated funds elsewhere

, but anyway I digress).
Well, recently I had the pleasure of trying on a honking asscher at a local jewellery store and subsequently have tried on a few more. And you know what? I'm soooo crazily, madly in love with asschers!!


I've decided I'm now going to re-start my project and save my pretty penny to get a 6ct asscher (yes, 6ct since asschers face up so much smaller
) later on, perhaps for my 50th birthday (but hopefully earlier - I have quite a few years yet, ha ha). I'm so relieved I didn't get a 5ct RB! It wouldn't have been a mistake
per se
, but I reckon I have enough RB's for now (yes, for now - though am still yearning for a Riviere necklace, perhaps years down the line). There are so many RB's around, esp where I live and asschers are so rare in this part of the world, that I just really didn't put two and two together. Now that I've had the pleasure of having tried them on, I truly think that asschers are so elegant, so regal and more importantly look just RIGHT on my finger, ya' know!

So has this happened to anyone of you? Have you been lusting after "THE ONE" for so long, only to realise that maybe you weren't so in love with it after all, but perhaps merely the notion of it?