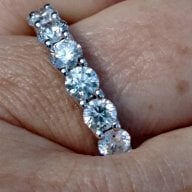 Joined

Dec 17, 2008
Messages

26,011
Anyone ever had permanent makeup done?

I'm not a very hairy person and have to pencil my eyebrows in every day. They never look the same as each other and never
look the same two days in a row. I googled around for some pics and a lot of the permanent eye-brows I saw looked pretty good.
Some looked very natural and others had a more made-up look. I was thinking I would want something in between. I also looked
at permanent eye-brow liner. I hate putting on mascara and eye-liner would help give me a little more definition.

Just wondering if anyone has ever had it done? Were you happy with it? How has it aged? AND, did it hurt?