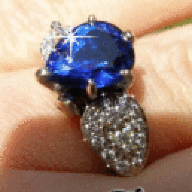 Joined

Feb 27, 2006
Messages

935
Or is this out of line..??
I do not mean detail, but restrictions??

Have you even discussed this??
We haven''t, and I want to say what I don''t want, but I''ve already been so involved in the ring process that I feel like I''m out of line to give restrictions on the proposal or ruin it for him. He tells me that he has no clue what he''s doing, (some how I don''t believe him anymore with his "fraud" slip lol) I guess it''s probably too late to even bother discussing it..? The longer I wait the more I think about it, so I think he should just do it!!!