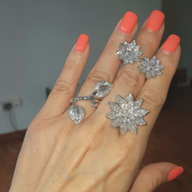 Joined

Oct 5, 2006
Messages

9,899
And is it any good? Does it last?
I''m at that age (early..cough..forties) when I think I could do with some non-divine intervention!!


The idea appeals to me (rather than a traditional facelift, yikes!! Anyway, I am too chicken!! LOL). Putting the cost issue aside (which is a lot of money), this would be better in theory as it doesn''t involve any surgery. All the adverts and magazines say you have to do it at a relatively younger age rather than wait until you''re in your 50''s or 60''s. I *think* I could persuade hubby to let me have this as my Valentine''s, anniversary and birthday presents combined, he he.
I was talking to someone at work and she said that her mom tried Thermage a couple of times and apparently you have to keep doing it, otherwise your face would start to sag even worse than before you had the treatment. Talk about "OUCH"!! That''s a whole lot of moohlahs!!
What do y''all think?