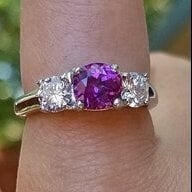 Joined

Sep 11, 2013
Messages

1,019
Just wanna commiserate with you
@Spring Day
.
Pain management in this country is a joke, especially if you're a woman with pain.
I had severe tailbone pain for 1.5 years after giving birth to my kid. Every doctor's like, well yeah, childbirth hurts, duh! Eventually they recognized that my level of pain was not normal. Plus, my issue with my tailbone had started to cause me pain in other areas, because I couldn't sit correctly. Finally I was referred to 2 specialists who through months of PT, etc. I'm doing much better now. I still have residual pain/numbness at times.
In the end, I'm just glad I didn't have to go the surgical route (yes, apparently cutting off part of my tailbone was a possible solution?? *shiver*).
But I'm still a little miffed that I had to suffer for almost 2 years just because doctors didn't do the right thing in the first place. Blah.
Last edited: