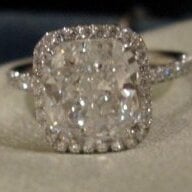 Joined

Feb 4, 2009
Messages

81
I have been on the search for over 2 years now for the perfect radiant cut diamond ring. 2-3 carats with great fire, brilliance and personality. Budget not a huge factor, although I want going to stay under 50K. All the diamonds I''ve seen (primarily in Chicago Jewelers row, some NYC and Tiffany...yes they have some radiants) just weren''t quite right, and I''ve seen hundreds. Too much fish eye, too much bow tie, not enough carat spread, not quite enough fire and personality.

I just found the most gorgeous radiant cut, 2.32 ct set in micropave from Harry Winston. I have never seen such a beautiful radiant, or any fancy cut for that matter... JUST UNBELIEVABLE! When I saw the GIA report, I WAS SHOCKED!!! I have been researching radiants for years, and every so called expert says never go under 58-60% depth. Look at the numbers below:

2.32 ct round cornered, rectangular modified brilliant
8.54 x 7.93 x 4.38 mm
Depth: 55.2%
Table: 61%
Girdle: medium to thick
Culet: None
Polish: Very Good
Symmetry: Good
Clarity: VS1
Color: E
Flourescence: None

I''ve never seen such a combo of depth and table % in a radiant.

This is truly the most glorious looking diamond ... What gives??? Is HW just that much more of a diamond magician than everyone else? or does HW not care much about the numbers? Do the numbers really mean anything in fancy cuts anyway?