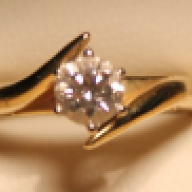 Joined

Jul 27, 2011
Messages

30
I was just wondering whether there is any visible difference (to the naked eye) between a H&A diamond and a normal diamond?

My fiance proposed with a 0.53ct HOF diamond which cost a fortune for the size / quality of the diamond!! I then went back to the jeweller with the diamond and picked a setting. 6 weeks letter, i got my complete ring!

I was looking through the forums and showed him some pictures some users have posted of their rings with H&A diamonds and you can see the arrows in the photos. I have tried and tried to see the arrows in my diamond, my sister has a professional SLR camera and we tried to capture a photo with the arrows but with no success..

My fiance is starting to freak out that perhaps he got ripped off.. (he definitely did, I could have had a +1ct decent stone for that money) but I like to think that the jeweler he bought it from is a reputable jeweller that wouldn't set a different diamond!

So if anyone has any experience and can tell the difference with a H&A diamond, please let me know. i'm thinking I might just have to get it appraised by an independent jeweller (i'm currently in the process of re-setting the diamond, I chose the wrong setting for the diamond, but I want to make sure the same diamond ends up in my new setting).

Many thanks!