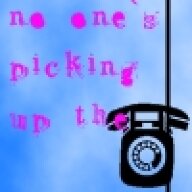 Joined

Sep 24, 2007
Messages

218
I don''t know that I ever really did a formal introduction post, though I''ve been here for about 1.5 years now. I''ll aim for brevity, but sometimes I get distracted....
Bf and I have been together for ~3.5 years and we are both 26. The first 1.5 we were at the same graduate school (though different programs), and then he moved 6 hours back to his hometown where there were more job prospects for him. At the time we agreed to do long distance, and I would move there when I finished my program a year later. As my final semester approached, I started to feel as though I needed a firmer commitment before I could comfortably move. Bf becomes extremely anxious when any talk of the future comes up (and in general, he takes medication for an anxiety disorder) and the conversation just wasn''t happening because of the anxiety. Finally I asked that we both just think about things, and in a month or so have a conversation about what we wanted for our lives. As the date got closer his anxiety took over, caused him to question everything and start to think that perhaps he would rather be with someone else.
It was during a visit to his city (in 1/0
when I was sitting down to use his computer (he knows I use his computer when I''m in town, and he''s fine with it) that I saw on the screen an instant message conversation between him and a female friend. He stated that he thought he might rather be with someone else (named a specific person) and was looking for advice on how to break up with me sensitively. I was completely heartbroken and told him that I needed to go home because of what I had seen. We had a conversation where he sobbed, apologized for hurting me, and admitted that he was confused about what he felt. I said that I couldn''t be with him if he was seriously thinking that he would rather be with someone else. There were several months of not talking, then talking a little but him still confused, and then me finally breaking off contact (blocking him from everything...aim,facebook, etc) because his back and forth was making me crazy. I finally came back, and more or less told him that the only options would be to get back together or to not be friends at all, because everything in between was too painful. The time when I blocked him apparently did him some good, because he said that he had worked through his confusion about the other person and realized that the feelings were related to feeling anxiety about feeling pressured.
Since then he''s been very different. He''s been much more sensitive in general, and seems more serious about things. I like his city more than I like mine, and I feel like I would rather live there than here (more job opportunities, my family and I do better with some distance between us, etc) and I would honestly prefer to live there. The only problem is that we have never had that conversation about what we both want. It''s a fair conversation I really think, because I am moving to be with him (while I like his city more than mine, it probably wouldn''t be on my radar were we not together). Ever since I brought up the conversation the first time, I''ve been afraid to say anything about the future because it really feels like the first time got me dumped, and so now this conversation is causing
me
a great deal of anxiety.
I''ve had a lot of negative messages my entire life about my own worth, and I always have a hard time sticking up for myself. The messages from others have always been very strongly
If you ask for too much you will be rejected and you will lose my love. Better to have some of my love and affection, than none at all.
I don''t want to live this way anymore. I keep trying to tell myself that I deserve the feeling of safety and committment that I''m looking for in having this conversation.
I''m going to visit Bf this weekend and I have no idea how to go about bringing it up calmly and avoid dissolving into an anxiety attack (though the thought of me hyperventilating when bringing it up, and his extreme anxiety when I do is mildy amusing). I don''t know what to say, or how to stay calm and I''m really just looking for advice or support. Brutal honesty is ok of course.