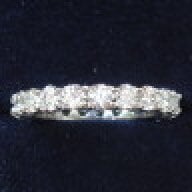 Joined

May 4, 2008
Messages

884
I need your to hear your thoughts, actually FI and I do.
So here''s the scenario. This isn''t an "issue" at all and we are ok with things either/any way but are looking for some insight.
My fiancee has:
1. A mom and his stepfather
2. Step Mother sans his dad (deceased)
3. Step Grandmother whom he''s known for 20yrs and is close too
So the question is, do we have them walk(ed) down this aisle as part of the ceremony and how/in what order or do we just have them seated ahead of time etc...
Any insight is always appreciated ladies, thanks as usual.