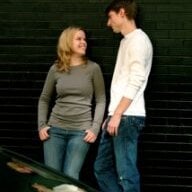 Joined

Oct 2, 2007
Messages

228
So it is 8 days until my wedding and today I started to panic about my groom and groomsmen attire!

FI and I decided the guys should wear suits, not tuxes (too stuffy, not really our style)

The guys side is small - one groom and 2 groomsmen

FI purchased a custom black 2 button suit and white shirt. He told the groomsmen to do the same. One did buy a 2 button, and the other already owns a 3 button suit and told me he will not buy a new one b/c "its fine."

I am now wondering if this will look totally bad with all 3 different suits (all black, but obvi different b/c different brands, etc) and I guess diff white shirts as well.

As for the ties, FI purchased 3 diff pink ties for them of varying shades and patterns.

Do you think this will look OK or will it look like a total mis-match?

Honest opinions please!

If it helps, I hae 2 BM''s and they are both wearing a simple black jcrew dress (tea length) and gold shoes (the dresses are the same, shoes diff but both gold) Their hair will most likely be different as well.

Thanks!!!