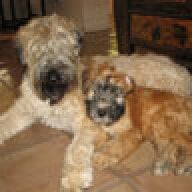 Joined

May 21, 2006
Messages

551
Ok, so we are really hitting a roadblock with the tuxes and I need your help.
FI and many of groomsmen and both fathers have their own tuxes. We really don''t care if they all match or not.
We *THINK* that what we want is for FI to wear a light silver vest and silk satin silver tie, and for the groomsmen etc to wear matching vests/ties except in black.
We were planning on just renting the vests/ties from somewhere like AfterHours Formalwear or something, but FI has decided that they are not nice enough and that he would prefer to buy something instead of rent.

So, does anyway know where one can buy NICE (silk satin) vests and matching ties in silver and black?!!

I''d really appreciate any advice! Also, can you let me know where you rented or bought your guys'' formal accessories?

Thanks so much!!!