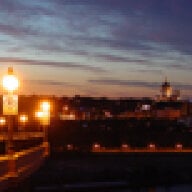 Joined

Nov 3, 2002
Messages

295
Hi,
i have been hanging around these parts for a little over a month now i think...or so. anyway, beside the point. Figure it may be time to tell a little bit about my actual story, not just random posts.
I recently decided that i needed to look into an engagement ring, and being such a dork, i headed straight for the internet. i had heard many things about diamonds and jewelers in the past. in fact, i figured i knew quite a bit. armed with my knowledge i headed right where i knew i should...
blue nile
. in fact, it was their "signature" series that led me to pricescope, and my awakening. i stumbled across an old thread while doing a search, and was instantly curious about "Hearts & Arrows." soon i became obsessed with knowing everything that i coudl about i diamond, and yet had never even witnessed one, other than the 1/4 carat diamond studs i bought my girl last year. (they were from ice.com, and actually dont look too bad.) nice place for cheepo type jewlery, the only other experiance i have is talking to a friend who got engaged last summer, and his experiance with "wedding day jewelers" anyway, i digress.
Soon i was reading up all the threads, and eventually moved on over to that beheemoth known as diamond talk. while much more interesting, much less informative. diamond talk is the culture, while this is the education. Soon i was looking at several different websites, and had my plan all mapped out. a .69 H VS1 H&A from
whiteflash
.com. that is when reality struck me. i heard mention of EightStar...i was very curios. i began reading posts, both positive and negative, and HAD to find out more. i read the website and was awe-struck. i knew this was the one. now just to find a price.
Well i live in Green Bay, WI, and as such have no dealer to work with. i found out immeadiatly that Richard could deal with me directly, and this was very exciting. he was very articulate, educated, friendly, and you could really sense a very deep meaning behind his words, and it was more than "I want your money." He had two stones i was interested in, both more expensive and smaller than i had wanted, but that was ok...until they both sold in the day that i was considering buying one. ah my luck! I had actually been reffered to Richard from SteveL.(thank you for all your help by the way, i hope you are not too disapointed that i did not go with your Canadia diamond, i am sure it is exquisite, i was really torn between that canadia.) however, it worked out that an email i had sent to Wink from Winfields ended up with him CALLING me. talk about a shock! he was very friendly,and very helpful. i was interested again in a .71 or so H&A, but then i found out he too was an EightStar dealer. and just so happened to have a 61 pionter, once again smaller than i desired, but ihad heard such great things. a few days and a lot more stock sold than i had anticipated, i was now the owner of an EightStar, well an owner till next tuesday when my girl becomes my fiance. I was also able to use
Whiteflash
to order my Vatche x-prong setting, which i immeadiatly knew was the perfect one for her. They sent it to wink no problem, and it should be arriving at his place of employment on the morrow! I can't wait until next tuesday when i finally get to see it!! i even bought an
ideal scope
to look at the diamond when it comes in.
Anyway, on to the other main point of this post. i had the "most excellent adventure" at the mall today. i wanted to actually see some diamonds, and i know that the mall isn't the best place to do this, but hey, i figured i coudl show some folks up with all my new knowledge. I walked past Zales, Gordons, etc...and came upon this place that looked like... a jewelery store? the people behind the counter actually looked like they might know something, and then i saw in the corner of the glass, an AGS certified dealer. wow. Vander Zanden Diamond Jewelers in Ashwaubenon WI. remember that if anyone wants some very friendly honest advice from a diamond dealer who has been in the business for a long time. Now since he was competing in a "mall" he had somewhat higher prices than one would expect to see online, but i don't think they were out of line with what i have heard from other B&M store quotes. Anyway, he knew what he was doing, showed me some actual diamonds, and was very excited when i could talk back to him in "diamond-speak" even his assistant came over and commented on how "great" it was that i had done a lot of research. i am only 22 but could probably pass for 17 yet they gave me their full attention. He never hasseled me into a sale, he never preasured me to looka at particular cut etc.
With that all said, he did have a few interesting practices. He was an AGS certified gemologist/appraiser, and therefore did all of his own grading rather than sending in stones...what can you do. He said if i wanted to, i could have it sent in for grading, but that would get tacked on in the end anyway. i respect that. he also had sold his last AGS-Ideal cut that morning, so i could not see it. however, i saw an AGS-1 that was only .5 degrees off on pavillion depth, and dang did it sparkle like mad. this was the clincher, when i started discussing that i was interested in AGS ideal, he said "well we don't really carry many, because so few people really want to have them, but i can get in any stone you want, and have rather competitve pricing compared to online brokers." which was great. He then made mention of the big 8*. commenting on how if i was looking for a perfect one, that i should see them! he doesn't even sell them, and was telling me to go someplace else if i needed to! that is a high class jeweler.
I ramble on WAYYYYYY!! too long here, and many of you have been lost somewhere up by "i digress." but thank you so much for all the information that is available, and remember, don't right anybody off just because they may have a store in a "mall." There are good jewelers out there, just have to know how to look for them.
I think i will swing by and show him the 8* when it comes it, i bet he would appreciate that. even though i didn't give him the sale. well, there is always anniversarys. heh.
sylvesterii / jan. (yep that is my name, and i am a guy. it is finish.)
head down, foot back, rock.
( it took a lot for me not to end my posts like this here. since "rock" referes to rocking out to music, not diamonds. but it is how i always end my posts. i even have it custom lettered on my checks.