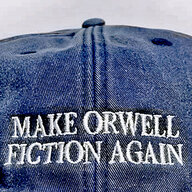 Joined

Apr 30, 2005
Messages

32,301
I think about this at times, especially Thanksgiving.
Who/what does one thank if one does not believe in a higher power?
Yourself?
That seems rather narcissistic.

So I step back in my mind and think about what/where thankfulness comes from.
I'd say being thankful springs from things we are happy about, good things.

But then what?
What do you 'do' to celebrate being happy if there's nothing to thank and no author-of-your-life or gift-giver in the sky.
Ultimately, I end up with yet another unanswerable question.

Obviously I'm not talking about whom to thank when, say, my neighbor gives me something; I'd thank my neighbor.
I'm talking about the big stuff where there's no gift giver to thank.
I guess for good health you could thank yourself for taking care of yourself, but even then you can come down with cancer. I did.

I don't think it's good to be ungrateful as though you deserve everything, but it seems wrong to thank yourself for the good things in your life you had no control over, and it seems weird to thank chance itself.
Then of course you should thank yourself for your good choices and hard work that result in a better life.

So in a sense being grateful about those big things falls into that category of accepting supernatural stuff ... as in some supernatural entity that gives us good stuff ... though of course it's is frowned upon to blame that entity when a tornado levels our house.

Your thoughts?