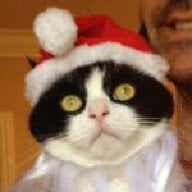 Joined

Oct 7, 2004
Messages

5,239
I have horrible posture when I sit, usually 11 hours a day at work. Over the past 2 years, I''ve noticed increasing pain in my hips, back, and neck, so I started seeing a Chiropractor. Well, I got yelled at today because he''s sick and tired of adjusting me every other week. He said i have problems because i''m slouching in my seat, so my spine actually started curving towards the right because I use the mouse with my right hand, so my shoulder leans forward and my rib cage is all twisted. Either way, I''m all screwed up.
So today, he recommended that I buy a corset, and wear it for a month.
This friggin thing hurts!!! I have to sit perfectly straight, or else I can''t breathe, and the wires (boning?) dig into my hips if i even relax my posture a bit. Guess it''s a good sign that it''s working?
Either way, I just wanted to whine.

I dunno how women back in the day used to wear these horrendus things. it''s going to be a horrible 30 days. *sigh*