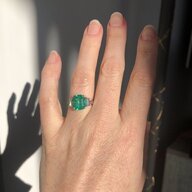 Joined

Sep 25, 2008
Messages

2,912
Scheesh..... I feel like such a brat

This is just bit of a vent, so I don't really expect any replies.
I recently moved city and have been temping whilst I searched for a permanent job for almost 2 months now.
Finally the agency calls me today and says I got one of two jobs I interviewed for! She is very excited and happy for me - says that client was very fussy and I should feel honoured. I made no secret that I would have prefered the "other" role I interviewed for but she was clear that they wont make a decision soon and I'd be silly to miss this on the off chance of getting the other one - she is correct of course so I have accepted it.
So why on earth do I feel so bad?
The job is nothing I haven't done before and I'm sure I'll cope but just have a sinking feeling about it all.... I simply cannot afford to turn down a permanent work and I know that everyone has to make sacrifices but I just feel so darn blue about this.
You ever get that gut feeling that just says...... "don't"????