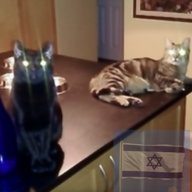 Joined

Jun 8, 2008
Messages

52,231
It's something and I am glad they will not be under those horrid circus conditions anymore forced to do stupid tricks but I wish all animals would be taken off the circus circuit and other venues and allow them to be in peace and contentment at animal sanctuaries. I worry that the Ringling Bros elephants won't be spending their "retirement" years in true contentment and wish they were going to be in a wonderful sanctuary instead. Hopefully my worries are unfounded and they will be able to enjoy the years they have left in contentment and peace.
http://www.nytimes.com/2016/01/12/us/ringling-circus-elephants-take-early-retirement-to-florida.html?_r=0
http://news.nationalgeographic.com/2016/01/160111-ringling-elephants-retire/
The days of lumbering elephants performing under big-top tents are coming to an end sooner than planned.

Feld Entertainment, the parent company of Ringling Bros. and Barnum & Bailey circus, said in a statement on Monday that it was phasing out its Asian elephants and moving the creatures from their traveling circuses to a conservation center in Florida in May, a year and a half sooner than anticipated.

The move would bring to 40 the number of elephants at the center, the company said. The cost of caring for the 11 touring elephants is about $65,000 a year, and Feld Entertainment said it wants to use that money to focus on conservation and pediatric cancer research instead.

This is a switch from last March, when the company had said it would phase out its touring elephant units, which perform 1,000 shows a year, by 2018.

The announcement on Monday came after decades of claims by animal rights activists that the circus treated the giant creatures cruelly, including complaints about its use of long, hooked poles called bullhooks, and other methods of control.

Stephen Payne, a spokesman for Feld Entertainment, said the decision was driven by economics, not complaints, as more cities placed restrictions on housing, restraining and transporting the animals.

"Rather than fight city hall, we decided to take those resources and use them for conservation of the species," he said in a telephone interview.

The animals have riveted audiences for years, especially in cities where their arrival became a ritual, parading to the Staples Center in Los Angeles or through the Queens-Midtown Tunnel in New York.

The remaining two elephant units still on tour — one with five of the animals and the other with six — are scheduled to appear in another 27 shows, including in Brooklyn from February 25 through March 6.

Mr. Payne said the last two shows to feature elephants would likely be "Circus Xtreme" in Wilkes-Barre, Pa., and "Legends" in Providence, R.I., both on May 1.

When the 11 elephants take up residence with the 29 others in Florida, they will become part of the company's pediatric cancer research partnership, Mr. Payne said.

That research involves testing blood samples from the elephants, whose distinctive p53 gene makes them exceptional cancer fighters, for use in studies at the Primary Children's Hospital and The Huntsman Cancer Institute in Salt Lake City, Utah.

Animal welfare groups gave mixed responses to the announcement on Monday.

Ingrid Newkirk, president of People for the Ethical Treatment of Animals, said in an emailed statement that the public had lost its taste for "abusive" shows and called on the company to end all of its animal acts, including ones with big cats.

She added that there was a danger of disease transmission from the animals, highlighting a report published last week by the Centers for Disease Control and Prevention that investigated a possible transmission of tuberculosis from elephants in an Oregon zoo to humans.

Mr. Payne said the company's elephants have tested negative for TB.

Cathy Liss, president of the Animal Welfare Institute, said the group was reassured that the elephants would no longer "be hauled around the country," but said it was still concerned about their treatment at the Florida center, where they have been "confined in chains on concrete floors and subjected to the use of bullhooks and electric prods."

Mr. Payne said the elephants were shackled at night to keep them from stealing each other's food, but then spent days outside with the herd.

P.E.T.A. said that in the United States there are about 17 traveling circuses, including Ringling, that still use elephants.
The Humane Society's president, Wayne Pacelle, praised it on his blog as "a second wave of good news" from Ringling. "For wild animals whose natural habitat is outdoors, life in a traveling show is filled with unending misery … all so they can perform silly tricks."


Arriving at the Center for Elephant Conservation in May, while the scrubby palmetto are blooming white, will be elephants ranging in age from 5 to 47. The youngest, April, after a year on the road, will be returning to her mother, Alana (named for the middle daughter of company owner Kenneth Feld), and to her father, Charlie, a seasoned stud whose latest mate is pregnant and due in September.

"You could say it's not a retirement" for most of the performers, said Payne, "but a family reunion. And it might be a good excuse for a party."
http://www.peta.org/action/action-alerts/urge-ringling-bros-stop-cruel-elephant-acts-now/
Ringling Bros. and Barnum & Bailey Circus announced that it will end its elephant acts by May 2016. This is exciting news, but these elephants will still be threatened with bullhooks at its breeding farm in Florida, the so-called Center for Elephant Conservation (CEC), where elephants are kept in shackles, bred, and used as test subjects. And that's to say nothing of the tigers, horses, camels, and other animals Ringling will continue to use unless we ACT NOW!

Conditions at Ringling's breeding compound are nearly as bad as they are on the road. According to the sworn testimony of the head of the CEC, elephants at the facility are chained on concrete for most of the day—and sometimes for weeks on end. That includes pregnant mothers, who are kept in chains while giving birth. Inspectors have found baby elephants at the CEC with chain wounds on their legs, and the facility's records show that most of the elephants there have foot or leg problems related to intensive confinement. In addition, the facility is a hotbed of tuberculosis and has been under quarantine for years.

Other animals carted around by Ringling will continue to be transported in cramped boxcars, exposed to the stressors of travel, often trained like this, and forced to perform ridiculous tricks using fear, punishment, and pain.

Please speak up TODAY by signing this petition and urging Ringling to end ALL ANIMAL ACTS IMMEDIATELY and to retire the animals to accredited sanctuaries, where they can truly be free of painful bullhooks and whips and have some semblance of a natural life after years of mistreatment and deprivation.

Please follow up by tweeting to Nicole Feld (@NicoleFeld)—executive vice president of Feld Entertainment, Ringling's parent company—and urging her to use her position of authority to take all the animals off the road and send them to true sanctuaries.



Please End All Animal Acts and Send the Animals to Accredited Sanctuaries

I was thrilled to hear that Ringling Bros. is ending its elephant acts this May. Although this is a great step in the right direction, as someone who greatly cares about the welfare of animals, I urge you to take all animals off the road now and send them to accredited sanctuaries. They need space to roam without restraints, and they need care and rest to heal their ailing bodies. The nation's eye is on you once again, and now is the time to listen to the public outcry and stop forcing magnificent, sentient beings to perform ridiculous tricks. Please end all animal acts NOW.
I agree with the above bolded comments. I know many people don't however. What do you think? Cruel or Kind? Ethical or not? Is the better good being served allowing animals to work in the entertainment field such as circuses and carriage rides in the park? I am against the use of animals in this way for people's entertainment and the conditions they have been kept under are deplorable but I would like to hear others perspectives on this especially if you are for it.
For those of you who might bring up the topic of zoos I have my thoughts on that issue as well. Speaking with many people in the field who are knowledgeable I understand that zoos help save animals and when done correctly they are a good thing. Help children appreciate different animals, help conserve different species and I know that SonnyJane here can offer some good info so hope she sees this. I will add there is a big difference between zoos. Some are great-because they allow their animals to run "free" in big areas and rather keep the people "caged" i.e. the Bronx Zoo and the San Diego Zoo and the Washington Zoo. I haven't been to any zoos for over 17 years now because my dh finds zoos sad because of the animals being "prisoners" but we both realize that zoos have an important role and some of them do it right.
Anyway curious about any and all thoughts.